VCD Visual Contour Digitizer
Contour display and measurement of flat and free-formed materials
The measuring tables VCD enable a precise measurement and comparison of large, flat and free-formed materials. Also, the system can easily display an accurate contour of pieces that only exist as a model or sample.
Measurement of flat, free-shaped materials
True-to-scale contour display of models or samples
Uniform illuminated surface made of safety glass
Calibration and equalization methods
Height of material is considered
Measured data comes as contour file (DXF, IGES)
Scanning time approx. 45 sec. per camera, process time from 60 sec.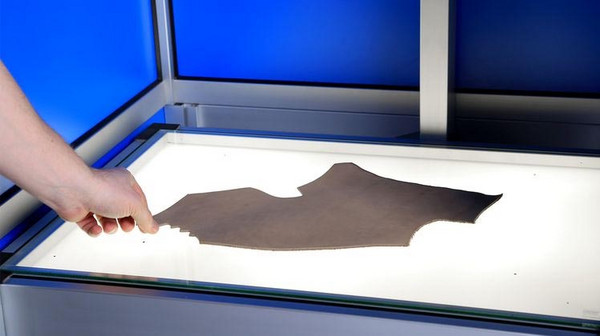 | | |
| --- | --- |
| Table surface | Uniform illuminated safety glass |
| Image contrast | High frequency light with dimming control |
| Output format | Contour file as DXF, IGES |
| Optional module | Comparison of contour and dimension with CAD file |
| Equipment | PC, Windows 7/10 and VCD software |
| Process time | Approx. 60 sec. |
| Max. material height | 5 mm |
| Power supply | 230V, 50 Hz |
| Power input | 350 - 2000 VA |
| Ambient temperature | 15 - 30°C, optimal: 20°C |