Visual Localization of Acoustic Emissions
The Acoustic Camera of GFaI is the first viable system to localize acoustic emissions. Brought to market in 2001 as a pioneer technique, the Acoustic Camera has become a metaphor for beamforming systems over the years. For the first time, a portable system can be used to visualize sounds and their sources. Maps of sound sources that look similar to thermographic images are created within seconds. Noise sources can be localized rapidly and analyzed according to various criteria.
The range of usage is nearly unlimited. Automotive, wind energy, environmental, transportation, aerospace - and many more industries are in our customer base:
Sound analysis
Noise reduction
Troubleshooting
Quality control
Free Field Measurements
Car interior
Aircraft interior
Wind turbines
Wind tunnels
Microphone arrays
For the arrangement of the microphones, we offer different array constructions for different applications. Our wide range of standard shapes and sizes:
Ring Array with 32 / 48 / 72 microphones
Sphere Array with 48 / 80 / 120 microphones
Star Array with 48 microphones
Paddle with 48 / 104 microphones
Fibonacci with 120 microphones
In addition, we can build an individual array depending on the required customization for the user.
Data acquisition
Data recorder mcdRec
This data-recording device has been developed especially for use with the Acoustic Camera. It facilitates high scanning frequencies and high numbers of channels but it is lightweight and compact at the same time.
In addition to the microphone signals, other parameters can be recorded in analog or digital format. The distinguishing feature of this data recorder is the scalability of the microphone channel number and the interface. The data recorder is equipped with a wide-range AC power supply that allows operation around the world (from 90 V to 240 V).
NoiseImage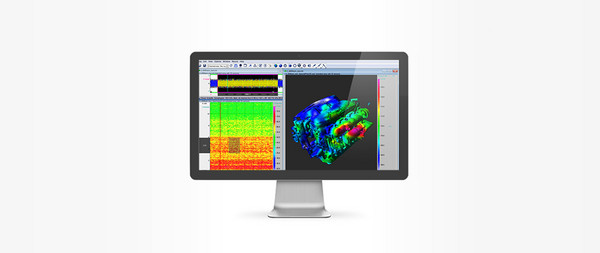 Software NoiseImage
One software for data acquisition as well as analysis and evaluation
NoiseImage is the powerful software for acoustic measurements in fields like the automotive industries, wind energy, environment, transport, aerospace, room and building acoustics and mechanical engineering. For the continuous development of the software, we draw upon over 20 years of user experience and comments. Pooled with a R&D staff of more than 25 specialists, the spectrum of NoiseImage is constantly extended by new features, functions and modules.