System for Type and Position Recognition of Workpieces
CeramDetect automates the glazing process of sanitary ceramics by identifying the workpieces with a 3D scanning system (laser light sheet system) and determines both the type and the absolute position as well as orientation of the workpieces. Based on the acquired data the model is determined by using a database followed by the calculation of the deviation from the nominal position. These parameters are sent to the PLC, which selects the corresponding robot program and calculates its adjustment according to the measured position and orientation of the workpiece.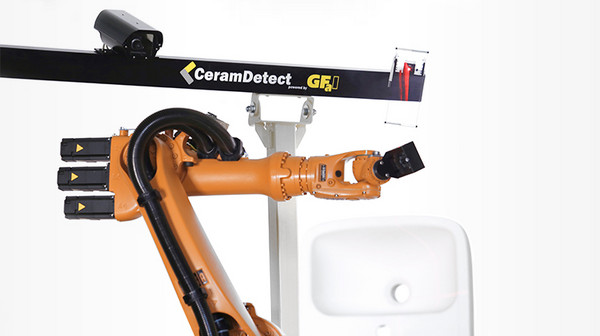 In the newly developed version 3.0 of the CeramDetect system, the identification process has been improved. Thus, the capability for the identification of holes has been added, allowing a safe separation of workpieces which only differ in the presence of holes. Furthermore, the detection process was accelerated by the use of new hardware components. CeramDetect 3.0 also has a teach-in mode that allows the worker to easily insert new models into the database. No CAD data of the models are required.